Here's a simple program that can tell you
When Apple announced that it was bringing Metal to Mac OS X, it stated that all Macs produced from 2012 onward would support the API. There has been some confusion about the actual requirements, as it's also been shown that only GPUs of a certain specification will support Metal - and that the GPU in the mid-2012 Mac Pro would not be supported.
It now seems that earlier models of the Mac Pro also support Metal, provided they're upgraded to a supported GPU. For example, my 2012 MP running a non-flashed AMD Radeon 7970 supports Metal, and there have been reports that earlier (pre-2012) models of Mac Pro running 7xxx series GPUs also support the Metal API. So here's a simple app I've put together that can let you know whether your Mac can take advantage of Apple's new graphics technology:
http://fabulouspanda.com/downloads/metaltest.app.zip
This app requires Mac OS 10.11 El Capitan as it utilises the Metal API.
Please post your results and the specs of your Mac to help others considering the upgrade know in advance whether their Mac is supported on the forum here (blog comments are temporarily broken):
https://fabulouspanda.com/forum/discussion/1309/app-to-test-whether-your-mac-supports-apples-metal-api/p1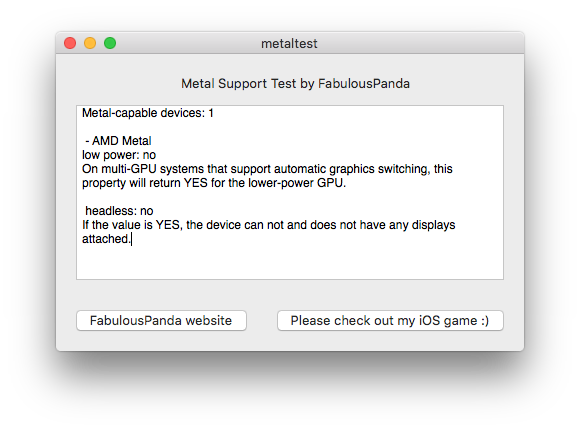 If you're reading this on your up to date iPhone or iPad, great news, your device already supports Metal! Check it out at work in my new coloring app 'De Stijl Art Factory' ;)